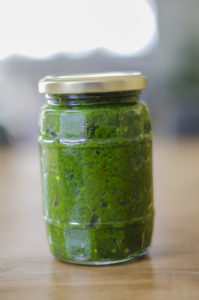 Zhug, also known as Schug, Schoug or Skugh is a middle eastern/mediterranean hot sauce originated from Yemen.
It's very popular in the Arabic/Israeli kitchen and is eaten with practically everything. Sandwiches, in a pita, on hummus, with meat, on cheese and actually next to any meal that you'd like to spice up. It is very hot, so only small amounts are used when eating.
The taste is amazing the day you make it, but I find the flavors develop even more after a week and keeps improving as time passes. I always make a huge batch and keep it in air tight glass containers until eaten. In below step-by-step description are some tips on how to make sure it stays fresh for as long as you'll want it to.
Other than satisfying our spicy addiction, a jar like this also makes a great gift for friends. My American and European friends are always so surprised when they taste it as it's so different from regular hot sauce or wasabi. So make sure to double your batch and spoil your friends.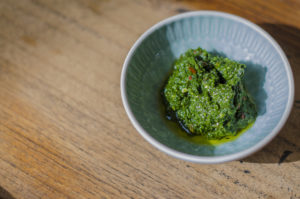 Varieties
The most common Zhugs are green or red. The bases are the same, peppers, garlic and spices. The red Zhug is based more on dry red peppers, while the green one incorporates a lot of fresh herbs.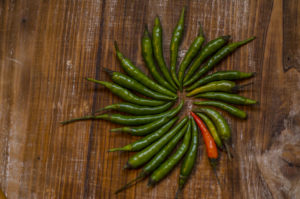 How to make it
The following recipe is for green zhug, it's so simple to make! It also keeps for a long time and even gets better with time. We try to make batches ahead, so it can develop the flavors for a couple weeks atleast.
To make it, simply start with chopping up your parsley and coriander roughly, peel the garlic and cut the heads off the peppers, keeping all those spicy seeds.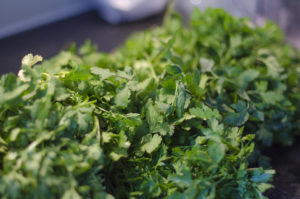 Add garlic and peppers to the food processor and process until cut to small pieces. Add parsley, garlic and a bit of olive oil. Process until a paste starts to form. Drizzle olive oil while the processor is running until the zhug looks like a thick paste. Mix in spices and the Zhug is ready!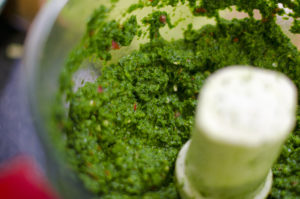 Move The Zhug to a clean, dry glass container and cover with olive oil, this will prevent mold from forming. Keep topping the Zhug with more olive oil each time you use it.
Secret Ingredient
I add 1/2 Tsp of Hawaij spice mix to my Zhug, it's a traditional spice mix from Yemen. If you can't find it at your local speciality store, you can always make one at home. Just follow this recipe.
Save
Save

Zhug - Mediterranean Hot Sauce
Ingredients
2 Batches Parsley
2 Batches Coriander
1 Garlic Head, pealed
10 Chili Peppers (green or red)
½ Cup Olive Oil (110ml)
50 Grams Ice (2-3 cubes)
2 Tsp Salt
½ Tsp Ground Cumin
½ Tsp Hawaij Spice (optional)
Instructions
Chop up parsley and coriander roughly, keeping the stems
In a food processor or blender, add ice, chili peppers, garlic and salt. Puree until finely chopped
Add parsley and coriander and half the olive oil, puree until smooth
Add cumin and hawaij (if using) and blend while drizzling the olive oil in a steady stream
Transfer to an airtight glass container and cover the top with olive oil
Eat immediately or keep in the refrigerator for up to one month, covering with some more olive oil after each use
Taste improves a lot after 2 weeks and only continues to develop
Save
Save
Save
Save
Save
Save