I love bread so much, I wrote this love poem:
Oh bread, you're in my head,
When no one's watching, I sneak another bite before I go to bed
Oh bread, when you're in the oven and the smell around the house spreads,
There's just nothing that hasn't already been said.
Yeah, so my poetry needs a bit of a brush, but I promise you, this bread is so good it will have you signing too.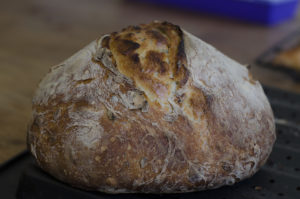 See that crunchy crust? That can be all yours in just a few steps. It's really so easy, anyone can make it.
There are times when we don't even buy store-bought bread, it just doesn't taste as good and is so much cheaper to make. And, you can literally add anything you like in it: Cheese, onions, olives, dried tomatoes, all sort of nuts and seeds, any herbs – really, the options are endless!
If that's not enough, if you prefer whole wheat or spelt flour? Well, that's fine. You're the master of this bread and you can be as creative as you'd like.
How to make it?
In a small bowl mix in dry yeast, sugar and some lukewarm water. Let it sit for 10 minutes until yeast starts to bloom.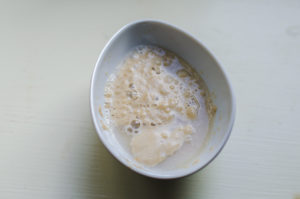 Meanwhile, in a larger bowl, add flour and salt, then mix to combine. Once the yeast mix is ready, add it to the flour and mix it all together.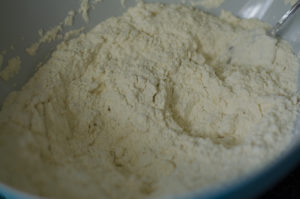 Next, add the remaining water and mix well.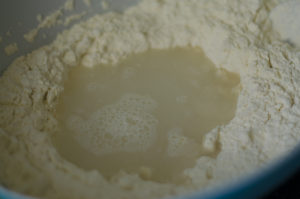 Then, add any additions you'd like. In this cases I added herbs and sunflower seeds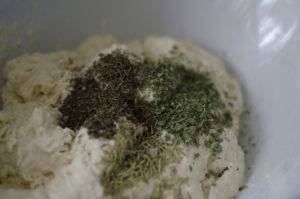 The consistency should be combined, yet very sticky. If you feel you need a bit more water, just add one tablespoon at a time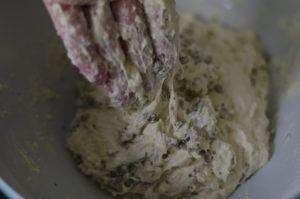 Once that is ready, wrap well with saran wrap and let it sit in a warm place for 2 hours, until it doubles in size and small air holes appear, like this;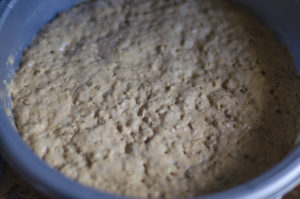 and this;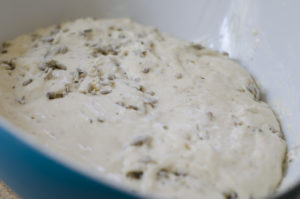 Meanwhile, insert a medium sized, heat proof pot (with the lid) to your oven and turn it on to 220°C (428°F). When it reaches the desired temperature, sprinkle a generous amount of flour onto your counter or big plate and with flour dusted hands, remove the dough onto the flour. Gently form a ball with your hands, use the flour so it doesn't stick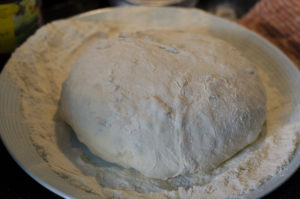 Carefully remove the hot pot from the oven and slowly lower the bread in there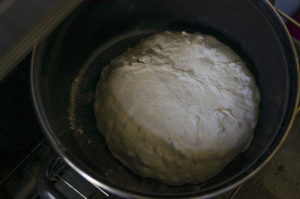 Close with the lid and bake for about 40-50 minutes. When ready, remove for the pot and turn upside down. Tap on the bottom, if you hear a hollow sound – the bread is ready and cooked from the inside. Let it cool completely upside down, this was the bottom doesn't get soggy and keeps it's crunch.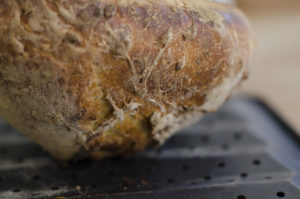 Easy No-Knead Bread
Ingredients
1 Tsp Dry Yeast
1 Tsp Sugar
3.5 Cups All-purpose flour (500grams)
1 Tsp Salt
⅓ Cup lukewarm water
1¼ cups lukewarm water, about 300ml (+1/3 cup)
(Optional Additions) Fresh or dry herbs (Oregano, Basil), Nuts, Seeds, Olives, Sundried tomatoes, or anything else you like
Instructions
In a small bowl mix in dry yeast, sugar and ⅓ cup lukewarm water. Let sit for 10 minutes until yeast starts to bloom
In a large bowl, add flour and salt, then mix to combine. Once the yeast mix is ready, add it to the flour and mix it all together
Add the remaining water and mix well
Add any additions you'd like and mix until combined. If the dough is not sticky, add a tablespoon of water
wrap well with saran wrap and let it sit in a warm place for 2 hours, until it doubles in size and small air holes appear
insert a medium sized, heat proof pot (including lid) to your oven and turn it on to 220°C (428°F).
Meanwhile, sprinkle a generous amount of flour onto your counter or big plate and with flour dusted hands, remove the dough onto the plate and gently form a ball with your hands, use the flour so it doesn't stick so much
When the oven reached the desired temperature, carefully remove the hot pot from the oven and slowly lower the bread in there
Close with the lid and bake for about 40 minutes. Then, remove the lid and bake for another 10 minutes, until the crust is beautifully brown
Remove the bread from the pot while still warm using a towel or heat proof gloves and let it cool, upside down, on a rack.
Cool completely before cutting. After slicing, keep covered with a towel